Author Chris Raschka brings out the creativity in Arlington Heights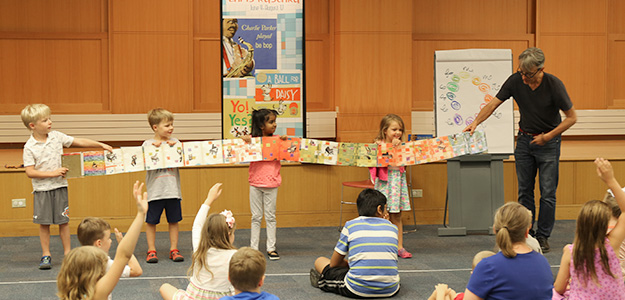 "What would happen if I took all those colors, turned them into a song and then turned it into a book" asked acclaimed children's book author and illustrator Chris Raschka as he used a color wheel and his book, Mysterious Thelonious, to introduce an audience of eager children to music as a form of storytelling.
The kids held onto the colorful pages of Raschka's book as it stretched across the Hendrickson Room floor while Raschka performed a song using his concertina, a musical instrument that bears a resemblance to an accordion. This was all part of an interactive storytime event that took place on Friday, June 29 at the library.
This storytime was just one of several programs that took place this week and gave residents a one-of-a-kind opportunity to meet and get creative with Raschka, who is the library's summer artist in residence.
Based in Brooklyn, Raschka is known for using watercolor, pastel and charcoal pencil to create artwork with bright colors, freeform shapes and a vivid sense of movement and rhythm. He has authored more than 60 children's books and has been selected for The New York Times' Ten Best Illustrated Books of the Year list multiple times. His most recent book, New Shoes, was published in May 2018.
During his artist-in-residency, Raschka put on a bookmaking workshop for kids on Wednesday, June 27 that gave children the chance to put together their own story. He created a pop-up art studio the following day in the library's Marketplace where kids were able to see him at work and feed off of his creativity and imagination. Raschka held an artist talk and book signing on Thursday, June 28 as well.
His interactive storytime on Friday then gave children a lot to do as he performed interactive read-alongs of his books Yo! Yes? and Charlie Parker Played Be Bop, held several plays that let the kids act as characters like Moosey Moose, Lamby Lamb and Crabby Crab and let the children dance to the music of jazz composer Sun Ra. He also held a second live art-demo in the library's Marketplace on Friday.
Raschka's week at the library will conclude with a bookmaking workshop for adults on Saturday, June 30. Bravo! Chris Raschka, Raschka's exhibit that showcases more than 50 works of art, will continue to be on display in the Marketplace through Sunday, August 12. This exhibition was organized by the National Center for Children's Illustrated Literature, Abilene, Texas.