Get imaginative with our newest interactive exhibit!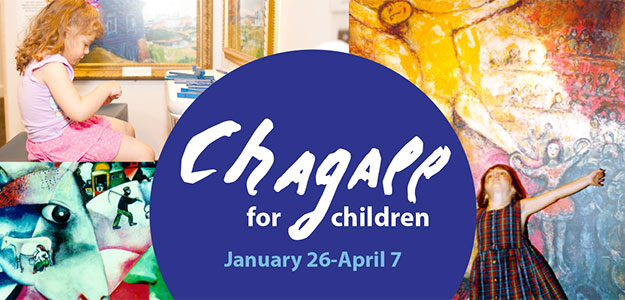 Starting January 26, visit Chagall for Children, the library's latest exhibit that provides an unforgettable way for children and families to experience the artwork of Marc Chagall.
Chagall for Children features 14 interactive components throughout Kids' World that provide a fun and imaginative way to learn about the art of Chagall and his life through hands-on activities. From creating mosaics to weaving tapestries to using touch screens to digitally alter Chagall's masterpieces, there are plenty of ways to experience and appreciate art in this exhibit.
For many Chicagoans, Chagall is known for his stained-glass art, America Windows, which is one of the most beloved treasures in the Art Institute of Chicago's collection. Chagall is one of the most celebrated painters and stained glass artists of the 20th century, known for incorporating personal narrative, dreamlike imagery and whimsical expressions into his modernist artwork.
Chagall for Children
is open January 26 through April 7. Play engagement volunteers will be in Kids' World, guiding activities. Look for volunteers wearing a Chagall button and nametag if you need assistance. Sensory-friendly device kits are available by request - ask Kids' World staff for more details. Sensory-friendly exhibit hours are also planned in February - visit
ahml.info/chagall
for more information.
This exhibit is generously supported by the Friends of the Library and was created by Kohl Children's Museum. It is open to everyone, and especially suited for children ages 2-12. For more information about the exhibit and related programs, or to schedule a field trip, visit
ahml.info/chagall
.