It's vacation season! Meet area seniors whose travels are virtually amazing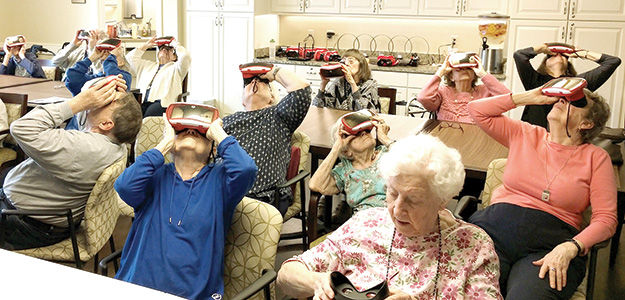 You're never too old to travel! That's the idea behind a new library outreach program for seniors that utilizes Google Expeditions, a virtual reality experience to give older adults the thrill of visiting virtually anywhere in the world.

"It was an out of body experience," recounted Ida, a resident at The Highlands at The Moorings of Arlington Heights, who at 91-years-young recently experienced virtual reality for the first time. Ida, along with 30 other residents, donned a pair of virtual reality goggles and was soon transfixed with a 360-view of Thomas Jefferson's home, Monticello. She explored room after room of the Virginia estate, as well as the gardens where Jefferson cultivated 250 varieties of vegetables.

"You could see it, touch it, taste it. It was amazing, so beautiful and very impressive."

The visit to Monticello marks the second adventure in the library's travel outreach series, which started last fall with a visit to Brazil for residents at local memory care, assisted living and skilled care communities. Both destinations were a hit and like any good vacation, the pay-offs linger long after you return home.

"It rejuvenated me," said Ida. "I came in as 91 and the experience made me feel like a new person."