Musicians find common ground in Tea & Talk class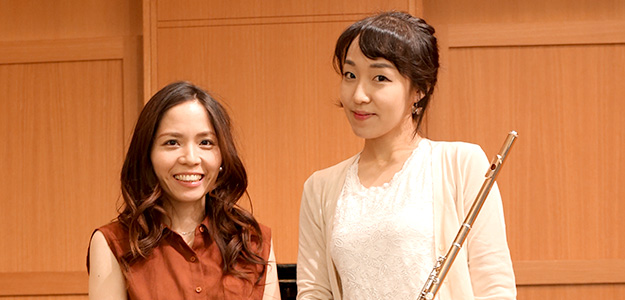 Two English as a Second Language (ESL) students recently had the opportunity to communicate not only through English, but also through the language of music, thanks to the library's Tea & Talk program, a monthly social group that offers participants an opportunity to improve their conversation skills.
Piano teacher Yu Konno moved from Japan to Arlington Heights two years ago without knowing English. She began taking a Beginner ESL class at the library in September 2016 and later met her current tutor, Kathi Lieb, in March 2018. Hyejin Bae, a flutist from South Korea, was also matched with Lieb in March.
"She has been so helpful and encouraging," Bae said. "She always listens to my needs and really cares about improving my life here in this country. She also loves music very much, and that helps a lot too."
As Lieb worked with Bae and Konno, she learned that both women are classically trained musicians. Bae began playing the flute at 10 years old and graduated from Northern Illinois University's Performer's Certificate program. Konno started playing the piano at 11 and graduated from the Tokyo College of Music. Lieb soon realized she could organize a concert performance featuring her two musical students.
"They [had] to speak English together, that's the trick," Lieb said, pointing out that English was the only language Bae and Konno shared.
The two met once a week for three weeks and worked on four performances total, which ranged from the classical music of Gabriel Fauré to the song "Beauty and the Beast." The meetings tested both their ability to communicate with one another and their writing skills.
On the day of the performance, Tea & Talk met in the library's Hendrickson Room, with Konno and Bae playing for an audience from young children to adults.
"Of course I was so nervous and scared," Konno said. "I was able to calm down when I played a few measures because I felt that the guests welcomed our performance. When we played the last piece, I still wanted to keep on playing music."
Bae and Konno also performed together at the Arlington Heights Senior Center in November. It was the first time the two had publicly performed since Tea & Talk.
"It was not a difficult decision to continue. We have good chemistry," Bae said. "It is true that we have some language and culture barriers, but music is a common language that brings everyone together."