Read the book. Join the conversation.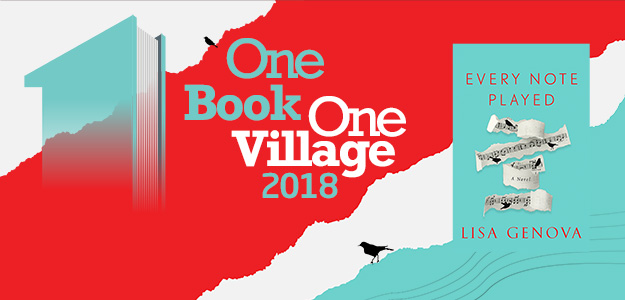 What if "someday" was today? What choices would you make if your life changed in an instant? Explore forgiveness, letting go and redemption this fall with New York Times bestselling author Lisa Genova's latest novel Every Note Played, this year's selection for the library's One Book, One Village community read.
Every Note Played
is informed by both a neurological condition and the human condition, reminding us how our choices influence our careers, relationships, and ultimately, how we have lived our lives.
Every Note Played
explores the brutal reality of amyotrophic lateral sclerosis (ALS) while also noting moments of beauty, growth and connection.
One Book, One Village, which is now in its fifth year, invites the community to read the same book at the same time and share experiences through related programs and discussions with family, friends, neighbors and community members. It will culminate with a visit by the author on Thursday, October 18 at Forest View Auditorium. Registration for this author visit will open on September 1 for Arlington Heights cardholders.
In recognition of the musical elements in Every Note Played, the library invites residents to enjoy and take part in The Piano Project, a public outdoor art display that reinvents pianos through art and puts them on display throughout the community from September 12 to October 12.
Copies of Every Note Played are now available for checkout in the library's Marketplace, Senior Center, on the bookmobile and as an eBook or eAudiobook for download with CloudLibrary.
About the Book
Richard, a 45-year-old world-renowned classical pianist, finds himself suddenly diagnosed with ALS. Karina, his ex-wife, who at one time had a promising music career of her own, becomes Richard's reluctant caregiver. After a rapid decline in health brings them once again under the same roof, Richard and Karina are forced to confront long-buried truths about their relationship and themselves. Meticulously detailing the disease's physical devastations and corresponding psychological toll makes for heartrending but suspenseful reading. Moving and masterful, Every Note Played is a powerful exploration of regret, forgiveness, freedom, and what it means to be alive.
About the Author
Acclaimed as the Oliver Sacks of fiction and the Michael Crichton of brain science, Genova has captured a special place in contemporary fiction, writing stories that are equally inspired by neuroscience and the human spirit. Other novels include
Left Neglected
,
Love Anthony
,
Inside the O'Briens
and
Still Alice
, which was adapted into a film starring Julianne Moore, earning the actress the 2015 Best Actress Oscar for her role as Alice Howland. Genova has appeared on
The Dr. Oz Show
,
The Today Show
,
CNN
,
PBS NewsHour
and
NPR
to speak about brain health and neurological diseases.
Learn more about Genova on the author's website.