Teens flock to employment fair in search of jobs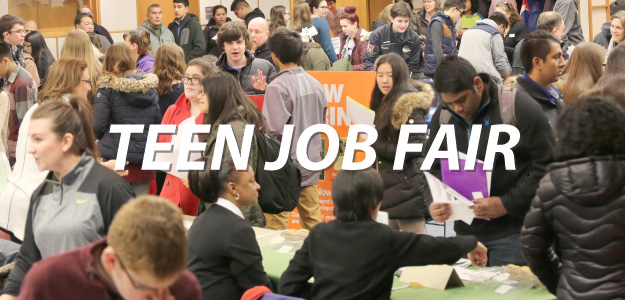 Finding a job was job one for the more than 400 local teens who turned out in record numbers on Tuesday evening, February 6 at the Arlington Heights Memorial Library for the Sixth Annual Teen Job Fair. Organized by the Arlington Heights' Youth Commission and presented in partnership with the library, the fair featured 26 area businesses and organizations -- the most ever for this high school student-focused gathering. The annual event offers students a convenient one-stop resource for finding part-time employment for the weekends and after-school or for landing a summer job or volunteer experience.
"I like how everything is right here in the same room rather than trying to figure it all out online," said Arlington Heights teen Stephanie Leigh, who came to the fair to scout out job opportunities for the summer along with her friend, Leah Chacko. Both teens are freshmen at Rolling Meadows High School.
"I've really enjoyed just going around," Chacko added. "It's been easier to get to know each job and the different aspects to them in person. Everyone has been really nice."
The two-hour fair took place in the Hendrickson Room where each business showcased their brand with banners, handouts detailing hiring criteria and information on hours and pay rate, plus staff on-hand eager to answer questions and offer assistance on how to best navigate the online application and interview process.
"We hire a lot of seasonal positions for guest services and this has been a good way to reach potential employees," said Megan Brandt, human resources assistant at Arlington Park International Racecourse. Brandt estimated that in the first 45 minutes of the fair she had already talked to about 25 teens looking for summer work. "It's also nice to see a lot of parents here tonight. For us, it's a good place to build awareness and to remind people that we're here."
Businesses and Organizations that Participated in the Job Fair:
Arlington Heights Memorial Library
Arlington Heights Park District
Arlington Heights School District 25
Arlington International Racecourse
Church Creek
Culver's of Buffalo Grove
Frontier Days (volunteer opportunities)
Garabaldi's
High School District 214 (internship opportunities)
Home Depot
Jeff Ellis Management, LLC
Jewel Osco Arlington Heights Road
Jewel Osco- Vail Street
Let It Snow, Make It Go - Village of Arlington Heights Teen Snow Shoveling Program
Lutheran Home
Mariano's Fresh Market
Met2Plastic, LLC
Northwest Community Healthcare
Northwest Electrical Supply
Northwest Special Recreation Association (NWSRA)
Rolling Meadows Park District
Soccer City - Lil Kickers NWI & Skilz Academny
SportsKids Inc.
The Student Conservation Association
Transitional Care of Arlington Heights
Wheeling Park District